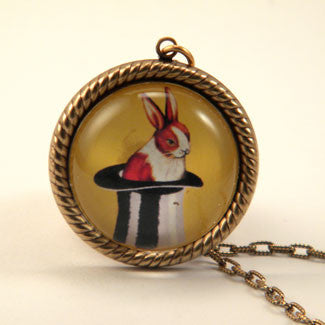 Rabbit Out of a Hat Petite Necklace - Magician Wear Jewelry
Hey, now you can have a little fashion magic, wanna see me pull a rabbit out of my hat? This little bunny is very chic, but will be totally magical. Pendant hands from an 16" or 24" gold Plated brass chain and closes with an ever so lobster hook closure and is 25mm round. The image is enhanced with a magnifying cabochon.
We can also make this in any of our other available settings. Just get in touch via our contact form and ask.