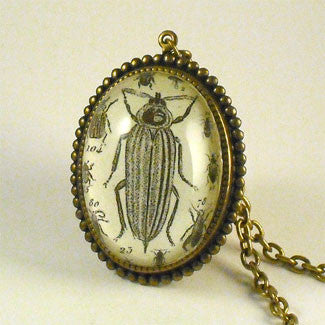 Bed Bugs Vintage Inspired Cricket Insect Necklace
Have you been really obsessed with bugs in my jewelry as of late. The stripes in this cricket are really something special, and the adorable insects surrounding him do nothing but compliment his lovely insect features. This necklace is a replicated print of a Victorian specimen engraving.

30x40mm Vintage Style Brass Necklace with 16 inch or 24 inch chain
We can also make this in any of our other available settings. Just get in touch via our contact form and ask.